NETICintercom®: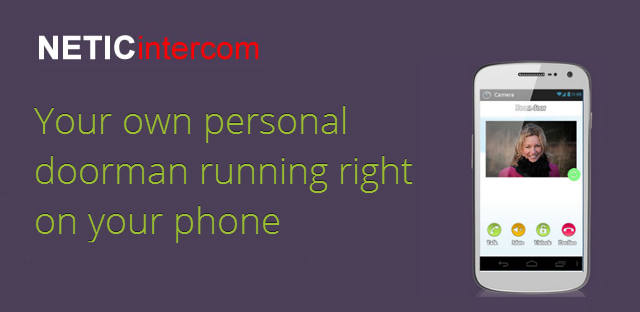 What is NETICintercom:
NETICintercom® is the most flexible and scalable intercom and video door phone solution available on the market. Due to it's architecture and the client software developed for smart phones and tablets it's an intercom that you can take with you, no matter where you go.
NETICintercom® features:
See who is on your door wherever you are.

When a visitor presses your intercom button you will receive a screen shot from the camera in the door unit and actually see who is on the door.

You can decide whether to answer the door or not.

If you decided to answer you will be able to see a live video stream of your visitor and talk to him.

You can also decide to unlock the door for your visitor even if you were in another country.
An extra feature is that you can configure cameras to your NETICintercom mobile application so that it can act as both an intercom and a surveillance application.

NETICintercom® is simply your own personal doorman running on your phone.
On the go
Since NETICintercom is developed for your tablet or smart phone you can take your intercom with you where ver you go in your house, office or on vacation. You'll be able to see who is in front of your door or gate no matter where you are, giving the other person the feeling that you're right there, at the other side of the door.
Keeping track
A build in mechanism will keep track of everyone who is using your intercom door unit. Besides a detailed log entry, containing time and date, a photo is made and stored of the person who pressed the intercom. Images and logs can be accessed anytime from your mobile device.
Peep hole
NETICintercom can be used as a so called peep hole or spy hole, giving you a peek at the person who is in front of your door or gate without the other person ever knowing it.
Easy to install and configure
The client software is developed in such a matter that it almost completely auto configures it self, making it one of the easiest intercom systems to install.